Episode 15
Mountains and Stories: Introducing the New Season with Dr. Xiumei Pu
May 29th, 2021
30 mins 29 secs
Tags
We are honored to collaborate with Dr. Xiumei Pu in her Project, "Mountains and Stories: Building Community Among Asian and Pacific Islander Refugee and Immigrant Families in Salt Lake Valley," with the support of a Whiting Public Engagement Programs Seed Grant. Anchored in the theme of mountains, the project consists of a twelve-part podcast and a documentary, a storytelling-conversation cultural event (June 26, 2021), and a group hike in the Wasatch Mountains (October 23, 2021). It is our hope that these efforts will amplify the environmental voices of Asian and Pacific Islander refugee and immigrant communities, and spark more public interest in thinking about the connection between culture, identity, and the natural environment.
At the heart of the project is a podcast series featuring the life and work of twelve storytellers who come from a range of age groups, occupations, and ethnic and racial backgrounds. Some of them are born in the United States; many of them are born in another Asian country or Pacific Island and immigrated to the US at a young age. Their stories show fascinating complexities of immigration routes and histories, incredible cultural richness and resilience, and long-lasting contributions of the Asian and Asian Pacific Islander communities to the social life and cultural landscapes of Salt Lake Valley and the broader Utah.
You can register for the June 26th event via this google form.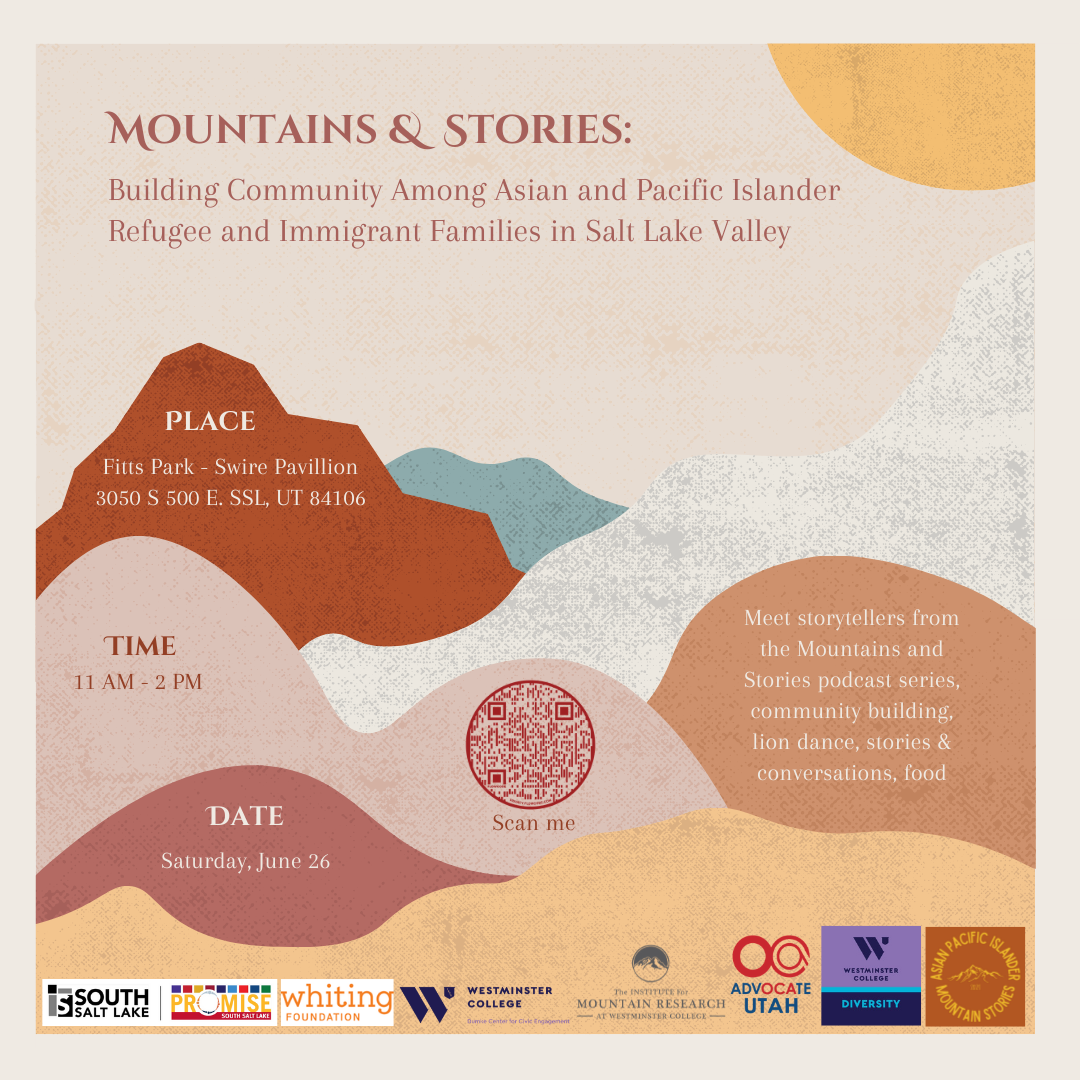 Jeff Nichols and Brent Olson co-direct the Institute for Mountain Research. The Institute for Mountain Research provides a hub to coordinate and support interdisciplinary research and learning related to the cultural, economic, scientific and political facets of mountain landscapes and the people who live in them. We aim to encourage deep and abiding interests in the mountains, the people who live in and near them, and the connections between the two. The Institute supports thinking across disciplinary and political boundaries in order to foster conversations about the landscapes that are part of our lives. We strive to serve as a home for exploration, a refuge for reflection and thought, and a forum for community conversation.
Our theme song is "Home" by Pixie and the Partygrass Boys. As our former Mountain Fellow, Naomi used to say, "They are awesome and you should check them out."
Chinese Women Writers on the Environment A Multi-Ethnic Anthology of Fiction and Nonfiction — Dr. Pu and her collaborators have released a new book of translated stories, prose and poems. The writing in this anthology offers readers a unique and generous array of women's experiences in China. In a world that is rapidly modernizing, these writings attempt to reconcile with the ever-changing people, plants, beasts and environment. After five years of painstaking collection and translation, the authors present these stories of strength and sadness, defiance and resilience, urban and village life, from the days of the cultural revolution to the present. Whether a house full of hawks and eagles, a stubborn cow, or a defiant elderly couple sabotaging a lumber operation, these stories express powerful visions of the earth interwoven with human memory.
Pixie and the Partygrass Boys — Partygrass is in the studio recording a new album that they expect to release in summer, 2021