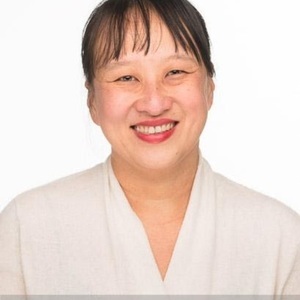 Ze Min Xiao
Special guest
Ms. Ze Min Xiao (Ze) is passionate about helping build strong relationships that result in bringing together various partners while helping guide and build on the future. She has over 20 years of experience working in the public and government sector in advancing equity for immigration and refugees.
Ze directs a newly launched Center for Economic Opportunity and Belonging at the Economic Development Corporation of Utah. The Center serves as the private sector commitment to work alongside government and communities of color to advance the principles outlined in the Utah Compact on Racial Equity, Diversity, and Inclusion. The Center will focus on advancing economic equity and strengthening community cohesiveness by fostering an environment of belonging for all Utahns.
Ze had a 13-year career with Salt Lake County. As the Mayor's Office for New American director, Ms. Xiao guided immigrant and refugee integration strategies on the local, state, and national levels. Under her leadership, Salt Lake County became the first county in the nation to achieve Welcoming Certification and was selected as one of four communities to participate in the Welcoming Transatlantic Exchange Program to share best practices with cities in Germany. Her work has been featured in national and international publications including, Bloomberg Associates, Boell Foundation, and Artplace of America.
Ze co-founded programs that are seen as models in bridging economic opportunity as an engine to building cohesive communities. New Roots, an agricultural program, and the Spice Kitchen Incubator activates the inherent and often untapped skills of immigrants and refugees as key ingredients to support Utah's economic growth while building an environment of belonging.
Ze holds a Master of Art in Community Leadership from Westminster College. She is a fellow of the W.K. Kellogg Foundation's Community Leadership Network. In her free time, she loves to garden, fishing, and spending time with her husband, two teenage boys, four dogs, and five chickens.
Ze Min Xiao has been a guest on 1 episode.
June 5th, 2021 | 45 mins 58 secs

This summer and fall we'll be collaborating with Dr. Xiumei Pu in her project "Mountains and Stories." Mountains and Stories is a community-building endeavor among diverse Asian and Pacific Islander refugee and immigrant families living in Salt Lake Valley. Anchored in the theme of mountains, the project consists of a twelve-part podcast and a documentary, a storytelling-conversation cultural event (June 26, 2021), and a group hike in the Wasatch Mountains (October 23, 2021). It is our hope that these efforts will amplify the environmental voices of Asian and Pacific Islander refugee and immigrant communities, and spark more public interest in thinking about the connection between culture, identity, and the natural environment. In this episode, we talk with Ze Min Xiao. When we conducted the interview earlier this spring, she was the Director of the Office for New Americans in Salt Lake County. She has since started a new position as the Director of the newly launched Center for Economic Opportunity and Belonging at the Economic Development Corporation of Utah.